The 2021 Subaru Love Promise Community Commitment Award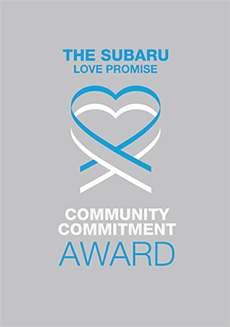 We've been nationally recognized for our dedication to our community and the Subaru Love Promise.
We're honored to receive the 2021 Subaru Love Promise Community Commitment Award. This award nationally recognizes Subaru retailers who are making the world a better place while demonstrating an outstanding commitment to supporting passions and causes in local communities. These efforts are focused in important areas such as the environment, community, health, education, and pets.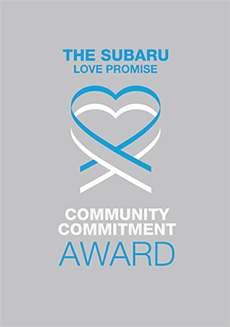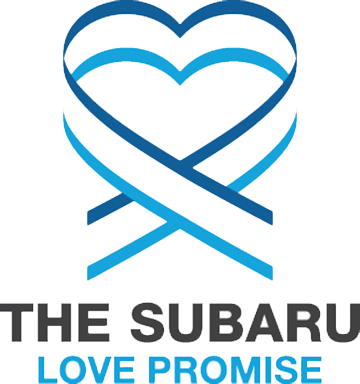 What is the Subaru Love Promise?
Subaru and our retailers believe in making the world a better place and the Subaru Love Promise is our vision of respecting all people. This is our commitment to show love and respect to our customers and to work to make a positive impact in the world.
How is Stohlman Subaru dedicated locally to the Love Promise?
Our Love Promise can be seen in various partnerships with local charities and non-profits. We're grateful for the opportunity, not only to be a part of our community, but to serve it as well. Please take a moment to appreciate these organizations and the good that they do everyday.
Herndon Parks & Rec Community Clean-up
E.L. Haynes Public Charter School
Prevent Cancer Foundation
Love Promise Stories from Stohlman Subaru
Subaru and Stohlman Subaru believe in making a positive impact on the communities in which we live and work. We uphold that belief through our Love Promise Community Commitment. Every month, we select inspiring stories from customers and partners from around our area who strive to support our collective commitment and feature them here
Helping the DC area's food insecure - Megan C
Since March, the food insecure population in the DC Metro Area has increased by almost 60%! Stohlman Subaru stepped up by not only providing food, but also funds and promotion for Capital Area Food Bank. Thankful to have them as a partner in the fight against hunger!
---
Thank You Stohlman Subaru for Sharing the Love! - Caitlin D
The Washington Jesuit Academy (WJA) is so grateful to be the hometown charity for the Stohlman Subaru of Tysons Share the Love event for the fourth year. Since 2016, this partnership has raised funds equivalent to sending four students through WJA for all five years! This level of support is so critical to our mission as a tuition-free, independent academy serving students from low-income communities and ensuring that they have access to the top-rate educational opportunities and resources they deserve to advance their intellectual, emotional, and physical growth. It empowers WJA to continually meet the evolving needs of our students, alumni, and families. Thank you, Stohlman Subaru for your loyal support and to all your customers who so generously picked WJA as their Share the Love recipient. We are inspired by your generosity and please know that it is making an immense impact in the lives of WJA's students, alumni, and families. Thank you again!
---
Supporting the community and cancer prevention - Lorelei M
Stohlman Subaru has been a great supporter of the Prevent Cancer Foundation and its mission of saving lives across all populations through cancer prevention and early detection for many years. In this unusual year, their continued support has been both greatly appreciated and necessary. We can't thank Stohlman Subaru enough for everything they do to support this important cause and wanted to give a particular highlight to their support of the Foundation's Annual Health Fair and 5k event, which was reimagined as a virtual event in November 2020 as a week of exercise, education and fun for the entire family. Participants were encouraged to get up and get moving for a good cause in addition to unique health fair offerings such as virtual sessions with a nutritionist, virtual yoga classes, and healthy cooking demonstrations. Most importantly, this event raised critically-needed funds to support cancer prevention and early detection programs. We were saddened not to be able to come together in-person this year for this great community event, but were thrilled to see the continued support and excitement throughout the event week. Thank you so much for making this event possible!
---
Pikmin finds his 'furever' home - Evelyn G
Subaru Loves Pets event October 1 - October 31, 2020 - Partnership with Fairfax County Animal Shelter and Friends of the Fairfax County Animal Shelter Pikmin was thrilled is to be in the care of the amazing staff at the Fairfax County Animal Shelter. This sweet older pup was found as a stray wandering around, but super friendly and excited to be in the presence of people. Upon examination, it was determined he has several age-related issues like poor vision, weakness in his hind end, and severe dental issues. Pikmin was so friendly we knew he would be able to find a good home, but we needed to get him in good shape before finding his forever family. As the nonprofit fundraising partner of the Fairfax County Animal Shelter, Friends of the Fairfax County Animal Shelter stepped into fund Pikmin's dental cleaning procedure through our Dentals for Adoption program. Through this program, we fund dental cleaning and dental procedures for pets (cats & dogs) who have grade three or higher dental disease. Not only does this improve the overall health of a pet by cleaning and removing infected teeth, but it also helps increase their adoptability by taking the financial burden of these procedures off of the adopter. We are so happy to report that Pikmin found his forever family and went home with an even bigger smile than before. A dog who was once a stray in poor health received the care, he needed to prepare him for the rest of his life with his new family. Thank you to ASPCA and Subaru for helping so many pets, including Pikmin, find their forever homes!
---
STREAM CLEANUP - Donald M
Stohlman Subaru came out and joined forces with us as leaders in the community taking the initiative in cleaning up our parks & streams in Herndon Virginia. It's nice to know that the Stohlman Family still loves and cares about our town. Stohlman was a huge dealership in our Old Town of Herndon providing numerous jobs and, cars & services to our friends and family. I have my forester I bought from Fernando & still get it serviced at Stohlman in Tysons because I work out there. They have since moved to a gorgeous building in Sterling, but their hearts are still here in Herndon. I smile every single time I see a Stohlman License plate, thanks for your commitment to our community for all these years.
---
Proud to do good - Jessica A
Arriving at Inova Fairfax Children's wing is always heartwarming. The hospital boasts a colorful playground out front, and large crayons and colorful caterpillars dot the wall. Just as it had two days earlier for our delivery with a different dealership, the oppressive D.C. heat kept families indoors, but the scene was cheerful nonetheless. Taylor, the hospital Community Coordinator, and I waited for Adam from Stohlman in the lobby and she said that they had already handed out all of the blankets from two days earlier and that patients who didn't receive one were eager for one. And then, just like magic, Adam arrived! Adam expertly staged the photo, and then we all discussed how lucky we are to get the chance to bring light and comfort to children in treatment. Three interns were present and one shared that a little girl who was in treatment said the blanket was the softest she'd ever felt. Adam and his colleagues beamed – it was clear that they really embody Subaru's philosophy and it was very touching to see.
---
Book Donations and more from Stohlman Subaru - EL Haynes S
We have a passion for teaching and learning here at E.L. Haynes. With the help of Stohlman Subaru, we now have many more books to add to our library, which has helped us provide more of a variety for our students. Stohlman has such great employees to come down and carry all these boxes of books and interact with the students & staff. We have quite a few Subaru owners here and some are purchased from Stohlman! Thank you for all your support!
---
Herndon's Arbor Day Celebration - Cindy R
Once again with Stohlman's generosity, including the help of you and your staff, the second Town of Herndon Shred Event was a success! Herndon Parks and Recreation Department is grateful we were able to provide a secure shredding service for local community members. This service was a perfect addition to our Annual Park and Stream Clean- Up, and our Earth Day/Arbor Day Ceremony. The attendance for all three events on Saturday was robust. Over 100 people participated in the park and stream clean-up. Thanks again for supporting our department in our goal to be good stewards of the environment. It is wonderful to experience a local auto dealership going the extra mile to preserve the outdoors. It was a joy to work with you and your event staff. An extra big thank you to the Stohlman Family for their continued assistance with our community-wide special events.
---
It's how you finish the race - Carrie N
Every family deserves a fair shot at getting to the other side of cancer. The fact is, families fighting cancer often find themselves unable to make ends meet at the end of the month. Thanks to Stohlman Subaru our official Finish Line Sponsor, we were able to surpass our goal of $50,000+ at this years JUST TRYAN IT TRIATHLON in Northern Virginia. The excitement all your staff volunteers had for every one of our athletes as they crossed the finish line was heartwarming. These funds will go directly to the families that need them most. We could not have done it without your support Stohlman!
---
Thank You Stohlman for Sharing Hope & Warmth! - Jenny H
Stohlman Subaru arrived at INOVA Fairfax Children's Hospital on Wednesday, August 1st not knowing quite what to expect. They had participated in the Loves to Care blanket deliveries in previous years but this was their first time delivering to INOVA Fairfax. They were incredibly excited because this hospital was much closer to their retail location and they were looking forward to helping patients right in their own community. The INOVA Fairfax and LLS staff were on hand to greet them as they arrived! We had a special guest to help the INOVA Fairfax staff accept the donation. Tyler Demille, a lively young LLS Honored Hero, and his family came to share about their cancer journey along with how much LLS and the Subaru deliveries mean to patient families just like them. Tyler was proud to announce he is 11 years cancer free and truly enjoyed delivering blankets. The Stohlman Subaru team was very moved and gave a blanket to both Tyler, and his sister Meadow, to keep as a souvenir of this special day.
---
Stohlman Subaru surpassed their Love Promise to us - Brian B
For the second year, we have been blessed as recipients of the Stohlman Subaru of Tysons Share the Love campaign. We are devoted to developing better solutions for urban education, and that has both its triumphs and its challenges. Through the assistance of our generous community, we continue to see our students develop skills, both inside and outside the classroom, that will become lifelong habits. Education is the key to a better future, and while our students may have walked into our school with challenges and experiences not everyone understands, they are surely leaving our community with the tools, confidence, and education needed to make changes in the world. Thank you, Stohlman Subaru of Tysons, and to your customers who so generously picked WJA as their Share the Love recipient. You are changing lives, and putting so much love into all of our hearts!
---
Stohlman Subaru Loves to Care! - Jenny H
Stohlman Subaru of Tysons shared the love at Novant Health UVA Health System in Manassas, VA on July 10th where they delivered 80 blankets, 10 arts & craft kits and messages of hope for patients. When we arrived upstairs Ali Avera, a registrar in the Oncology Center, and Gail Behrle, a staff member from one of the in-patient units were there to greet us. They were both incredibly pleased and grateful at the prospect of having blankets to give to incoming patients. They both expressed that they believed the care cards and blankets would help keep patients' morale up and stay warm. Kelly Persons, director of Novant Health's foundation, explained how, "It will be so meaningful to our cancer patients to know that they are thought of by the folks in our local Subaru dealerships. Through the Subaru Loves to Care donations, our cancer patients at Novant Health UVA Health System are being cheered on, with blankets and care kits, during their journey to good health!" Rich echoed similar thoughts and told us that the value of a blanket is so important to patients for many reasons. He told us that not only do the blankets help patients stay warm, but also give them hope. They let patients know that people in the community truly care about them and their health. Rich explained to the Stohlman Subaru representatives that the blankets they were delivering were going to make a world of difference to the patients in the hospital.
---
Stohlman Subaru Puts A Little Love in Our Heart! - Suzanne A
WJA is dedicated to creating an inclusive learning environment for boys in low-income communities in the DC Metro area, where the only question that remains is, "What more can we do for our students, our families and our community to change the face of urban education?" We are honored by the support from the dedicated faculty and staff of Stohlman Subaru, support that is vital in our mission. With the support of Stohlman Subaru and customers, we were able to answer that question while providing top-level educational services to these bright stars. The Subaru Share the Love program has allowed us to see the motivation of the students, faculty, and staff of WJA grow. We feel fortunate to have such a positive influence in our midst, one that enables us to pass along important lessons, whether academic or life lessons, to our students. We were so inspired by the generosity of Stohlman Subaru and the DC Metro area, we made a special song for the occasion.
---
E.L. Haynes Thanks Stohlman! - Sharlene S
We want to express our gratitude to Stohlman Subaru for their generous donation of 250 books to our school. As we all know, education is vital for all children and it's imperative to keep kids engaged in learning and interested in reading. The books donated by Stohlman are helping our students fulfill the E.L. Haynes mission to reach high levels of academic achievement and be prepared to succeed at the college of their choice. Thank you, Stohlman Subaru, you help make a difference for our students!
---
Subaru Loves Learning Book Drive August 1 - 31 - Danielle S
Join us in our Subaru Loves Learning initiative during the month of August! We are partnering with the American Association for the Advancement of Science (AAAS) in donating science books to Little Flower School in the Archdiocese of Washington. All of the books that will be donated have been recognized by AAAS as some of the best science books in their field. Contact us to learn more information.
---
Subaru Loves the Earth - E-Waste Event - Danielle S
We would like to thank our customers for participating in our E Waste Recycling event during the month of April. With your help, we were able to prevent 8,234 lbs of carbon emissions from polluting the atmosphere. This is equivalent to saving 316 trees, 1,400 gallons of gasoline, 11,937 plastic bottles, and 54,906 aluminum cans. Thank you for helping strengthen the Subaru Love Promise!
---
April 1-30, 2015 E-Waste Recycling Event - Molly M
Throughout the month of April, we are hosting an E-Waste Recycling Event in our store to collect unwanted electronics. We've arranged to work with a company who will responsibly collect, re-purpose, and recycle your electronic waste. Help us protect our environment. Just show up with your E-Waste and we'll do the rest! The first 50 customers who contribute will receive a complimentary environmental badge of ownership. We will accept: LCD Monitors, Cell Phones, Laptops, Tablets, CRTs up to 40, Video Games/Consoles, Fax Machines, DVD/VCR Players, Printers, Computer Peripherals, Switches/Routers, Cords and Wires.
---